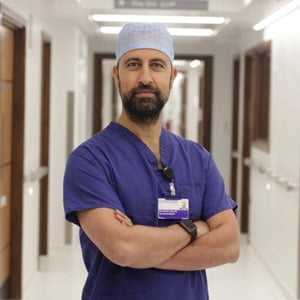 MBA, MPhil (Medical Law), FRCS (Neurosurg.)
Owase was the lead neurosurgeon for the successful separation of the Sudanese craniopagus twins Rital and Ritag in 2011 and Pakistani craniopagus twins Safa and Marwa in 2019.
He is a Consultant Paediatric Neurosurgeon and has worked at Great Ormond Street Hospital for Children (GOSH) since 2000. He was the Head of Department of Neurosurgery from 2012-2018.
Owase's specialist areas of  interest are craniopagus twins, craniofacial surgery, neuro-oncology and CSF and ICP pathologies. He is a director of the FaceValue team at UCL ICH, with a research focus of studying 3D morphometrics and designing bespoke cranial distractors. He is the inventor of CranioExpand (trademark), a bespoke internal cranial distractor system.
Owase was named in 'The Times' top 100 surgeons in the UK in 2011 and the top 100 children's doctors in 2012.